Posteo de casos
¿Quieres compartir tu caso?
Última actualización
2022-09-07 21:23:42
0 Vídeos / 11 Imágenes
Extra-long transnasal implants as alternative for Quad Zygoma: Case report
Introduction and importance: The aim of this case report is to present a technical report for rehabilitation of
patients with atrophic maxilla with the use of extra-long transnasal implants associated with unilateral zygomatic
implants.
Case presentation: The indications, contraindications, planning and surgical procedure are described in order to
give surgeons confidence in the management of this surgical approach to how to increase the range of rehabilitative
options available to surgeons and patients.
Clinical discussion: Maxillary bone atrophy is a challenge demanding a high degree of experience of dental surgeons
who trains themselves to rehabilitate these patients, whose treatment options range from bone grafts
through to zygomatic implants. Extensive regions of atrophy require the use of 4 zygomatic implants which, in
spite of offering predictability of the treatment, increase the surgical risk, require zygomatic bone with volume
for anchoring 2 zygomatic implants. Generally, this bone density is reduced in elderly patients, making apical
anchorage of the implants unfeasible.
Conclusion: The case report presented is a feasible alternative for replacing the placement of a second zygomatic
implant, thereby diminishing the surgical risk, and making it possible for the technique to be more extensively
used and performed by a larger number of surgeons.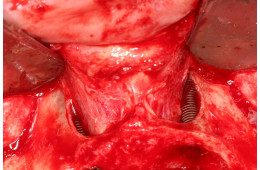 Votos
Comentarios (1)

Añadir un comentario